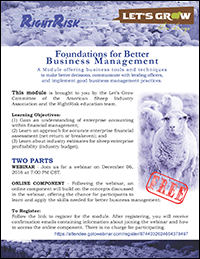 A Module offering business tools and techniques to make better decisions, communicate with lending officers, and implement good business management practices.
Learning Objectives:
(1) Gain an understanding of enterprise accounting within financial management;
(2) Learn an approach for accurate enterprise financial assessment (net return or breakeven); and
(3) Learn about industry estimates for sheep enterprise profitability (industry budget).
Module: This module is brought to you by the Let's Grow Committee of the American Sheep Industry Association and the RightRisk education team.
WEBINAR – Join us for a webinar on December 06, 2016 at 8:00P Eastern/7:00P Central/6:00P Mountain/5:00P Pacific.
ONLINE COMPONENT – Following the webinar, an online component will build on the concepts discussed in the webinar, offering the chance for participants to learn and apply the skills needed for better business management.
To Register: Follow the link to register for the module. After registering, you will receive confirmation emails containing information about joining the webinar and how to access the online component. There is no charge for participating.
https://attendee.gotowebinar.com/register/8744032624654378497